So as promised here is our review of favorites at Three Fox Vineyards and Miracle Valley Vineyards. These were wineries that we visited two weekends ago, but I got sidetracked in my postings. Of course, I took careful notes complete with gold star awards!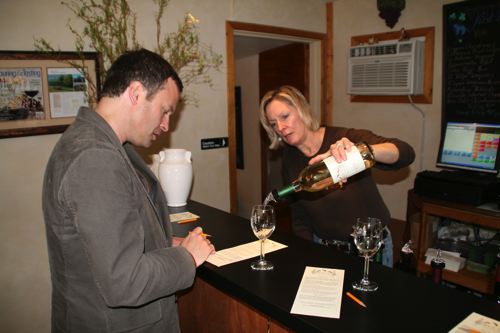 First up was our visit to Three Fox Vineyards, and we began our tasting with the white wines, of course. The first wine, the 2007 Leggero Chardonnay, was my gold star award for the white wines. Done in stainless steel, this Chardonnay exhibited apple and pear characteristics with a crisp, refreshing finish. This Chardonnay promises to be a crowd pleaser and is a versatile pour to boot. Serve with appetizers, light poultry dishes or white fish, bring along to a picnic, or enjoy on the deck with cheese and fruit. Paul went boheme on me and voted for the 2008 La Boheme Viognier. He appreciated its tropical fruit notes and flavors and noted a crisp edge associated with stainless steel aging.
Of the reds, we both gold starred the 2007 Alouette Cabernet Franc. I observed more a layered wine here with black berries, dark cherries, and coffee on the nose; in the mouth, similar characteristics with a toffee on a lengthier finish. The 2007 Alouette Cabernet Franc is one to age, so buy now but save for later with a feast of roasted beef or game. So enamored were we of the 2007 Cabernet Franc that we opted to share a glass with a hunk of mild Swiss cheese and crackers.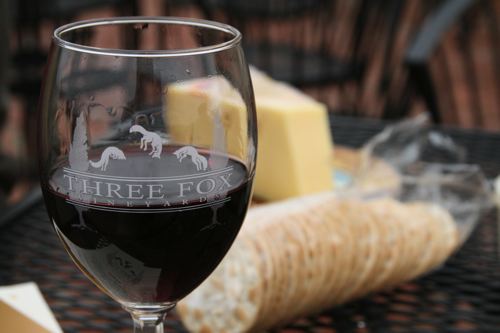 With snack digested and a bottle each of the Leggero Chardonnay and the Alouette Cabernet Franc purchased for future enjoyment, we made tracks on what was becoming a rainy day to Miracle Valley Vineyards. As we entered the tasting room, we heard strains of live music as a guitarist serenaded guests. We made a quick friendship with tasting associate, Ashley, who expertly guided us through the tasting menu. In fact, my gold star was awarded to the wine described by Ashley as "liquid art", and that was the 2007 Cabernet Franc. And liquid art did indeed present itself in the glass. Dark plum, dried herbs and spice filled the nose while waves of dark plums and cherries flooded the mouth . Completing the exhibit was a vibrant acidity and peppery edge that commanded a lengthier finish. This piece of art does indeed expect to be appreciated for quite a while.
So what of the whites? An interesting treatment of Chardonnay was offered with the 2007 Reserve Chardonnay which was aged for six months in Hungarian oak. Oak aged Chardonnay usually spends time in French and/or American oak barrels; however, this is not the case at Miracle Valley Vineyards. The result is a fruitier Chardonnay with some citrus notes and apple and pear flavors. The short time on the gentler Hungarian oak does impart a slight toasty edge, but Paul noted a smooth finish.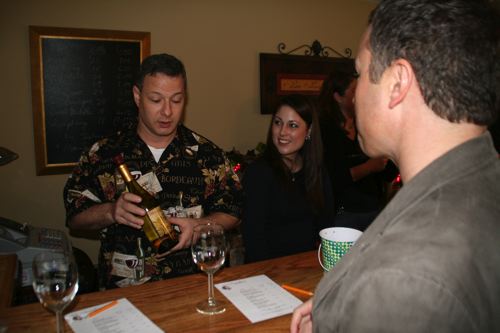 As our tasting came to a close, we realized that the light drizzle that accompanied our short trip to Miracle Valley became a steadier rain shower. Not wanting to get all wet, we had no choice but to share a glass of the 2007 Cabernet Franc with the complementary snacks offered for the afternoon at Miracle Valley. What better way to spend a springtime shower than with a glass of nice wine and light snacks with soft folk tunes playing in the background!
Alas, the rain did let up, and we were able to depart Miracle Valley Vineyards. We bid our farewells to Ashley, and we promised to return soon. In the meantime, we do encourage a visit to both Three Fox Vineyards and Miracle Valley Vineyards; just be sure to mention that Virginia Wine Time sent you!