Well, we kept our clothes on, but at Naked Mountain winter season is lasagna and wine time.  We look forward to the sausage lasagna with garlic bread served up at Naked Mountain, and of course, we also look forward to sampling current offerings on the wine menu.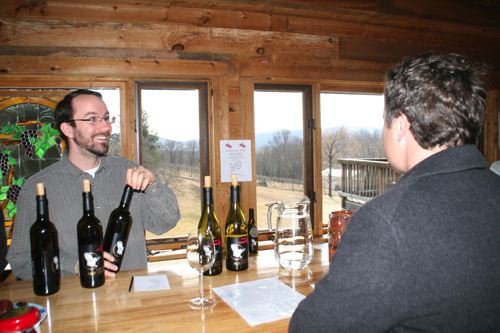 Paul and I both agreed that the 2005 Barrel Select Chardonnay was the gold star white wine.  Pears and honey on the nose and a creamy texture makes this one a classic.  We were more interested in the red wines since we already knew that lasagna was on the lunch menu.  In a rare moment, we again both agreed that the 2005 Cabernet Franc was the best red wine.  Dark cherries and spice on the nose gave way to similar flavors in the mouth with a smoky finish.  Small portions of Merlot, Tannat, and Petit Verdot are blended into this lush Cabernet Franc.  
For those who are tired of winter's chill and promises of snow that never seems to fall, the 2008 Cabernet Franc rose may bring summer closer to home.  Strawberry characteristics abound here with a nice tart finish that conjured images of summer concerts, picnics, and barbeques!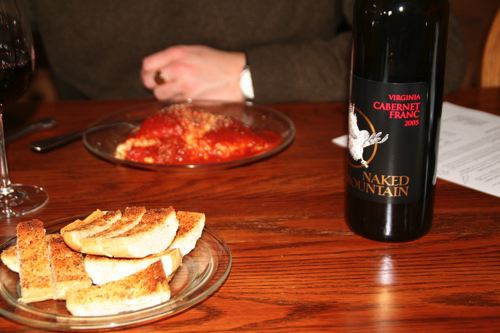 Feeling the cabin fever this winter? Get out to Naked Mountain and enjoy lasagna and wine; of course, mention that Virginia Wine Time sent you.