What better way to warm the body than with a bowl of chicken gumbo and a glass of wine! While on our Loudoun County trek, we made certain to take the chill off by stopping in at Breaux Vineyards for gumbo and wine (of course).
Before lunch, the wine tasting—how else to decide what to pair with the food? Hospitality Associate Sylvia Miller guided us through a tasting of current offerings; as always, white wines were featured first. Paul's personal favorite was the 2007 Viognier, and he observed a floral nose with vibrant fruit in the mouth. My own pick of the white wines was the 2006 Barrel Select Chardonnay, and for those who enjoy a fuller-bodied Chardonnay, this one is for you. Nine months of barrel aging in American and French oak and malolactic fermentation gives this one a creamy texture with a butterscotch finish.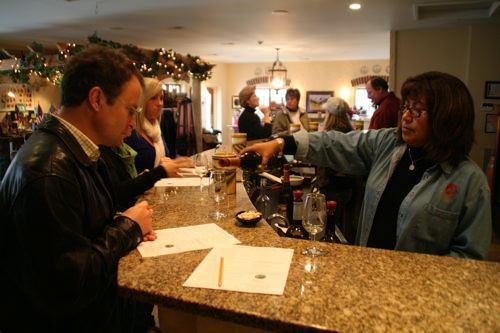 Of the red wines, Paul placed a star next to the medium-bodied 2004 Lafayette with its peppery characteristics. He jotted down, "dark berry" and "caramel toward the end" as descriptors. Sylvia explained that the secret to the Lafayette's complexity was the weather during the 2004 summer—cool, dry nights, and hot, dry days. My own gold star was placed next to the 2002 Merlot Reserve. Dried fruit characteristics prevailed here with nice, silky tannins. Aging in both American and French oak gave this Merlot Reserve a toastier edge toward the end with a lengthy finish.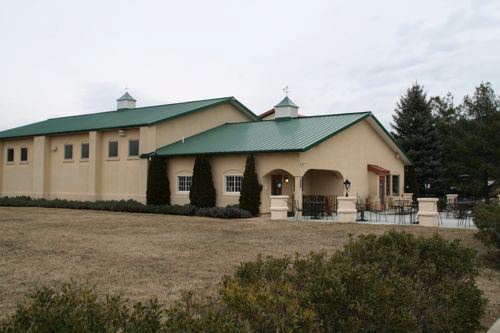 By this point, we were hungry and thinking of lunch. I was very keen on the gumbo; since, I am from New Orleans I never miss a chance to try gumbo wherever it is offered on the menu. Pairing gumbo with wine can be tricky given the numerous and complex flavors. However, I met my match with the 2007 Jen's Jambalaya. A blend of Viognier, Vidal, and Muscat provided a floral nose with peachy flavors. The half-percent residual sugar was barely noticeable but just enough to combine with the fruit characteristics to balance the spiciness of a dish like gumbo. With my decision made, I was ready to wine and dine. Paul was in a patriotic mood given the recent inaugural events and opted instead to have the all-American hotdog with a glass of his favorite 2004 Lafayette.
With appetites satisfied and excellent wines sampled, we were ready to bid "adieu" to Breaux Vineyards. We were very grateful for the time that Sylvia Miller gave us, and we know that we will return to Breaux Vineyards very soon. Be sure to visit Breaux Vineyards, and mention that Virginia Wine Time sent you.