This past weekend we hit the Loudoun Valley wine trail to sample current releases, and we will be devoting the next several entries to post our impressions. One winery on the Loudoun trail that made quite an impression was Loudoun Valley Vineyards under the new direction of wine maker and owner, Bree Ann Moore.
We intend to interview Bree in the near future, so I'll keep this entry short but very sweet. We had not been to Loudoun Valley Vineyards in quite a long while and certainly not since Bree purchased the facility and vineyards. My impressions of most wines at Loudoun Valley were not very favorable way back then. Therefore, it was with relief and pleasure to taste Loudoun's current offerings now posted on the Winter 2009 wine list. The rich 2006 Chardonnay Vintner Select could grace any dinner party that featured poultry, pork or seafood. Add a rich cream sauce to any of the above, and the 2006 Chardonnay would feel right at home. For an appertif, seafood entrée or casual sipper, do try the well-balanced 2006 Vinifera White.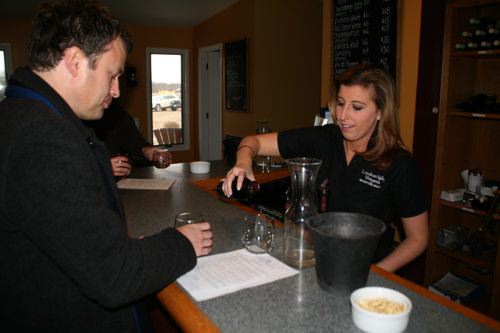 The biggest improvements were evident in the red wines. Gone were brownish colors and oxidized characteristics that seemed destined for the dump bucket! Paul likes pizza from time to time, and for him, the 2007 Chambourcin conjured images of a young chianti served with a pepperoni pizza. My own favorite was the 2005 Dynasty Reserve that is a blend of Cabernet Franc, Merlot, and Touriga Nacional. A bolder red made softer by the Touriga, the Dynasty presents a well-rounded red that should be perfect with a winter's menu of roasted meats and game.
We did indeed get to meet Bree Ann Moore briefly during our visit, and we look forward to a lengthier conversation with Bree as well as another tasting of Loudoun Valley Vineyards' rapidly improving wines. Until we post our next article about Loudoun Valley, do pay Bree a visit and tell her that Virginia Wine Time sent you.