While in the Rappahannock area, we realized that we had not been to Rappahannock Cellars in quite a while. In fact, the last time we were there for a tasting, two tasting options were available—the oakier, fuller-bodied menu and the less/no oak, lighter-bodied menu. With fond memories of our last experience at Rappahannock Cellars in mind, we decided to follow the grape sign markers along Hwy 211 to see what the winery currently has to offer.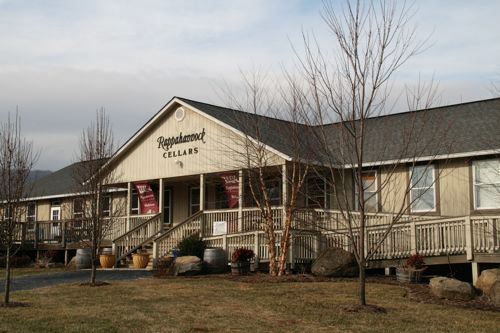 On a cold winter's day, the tasting room was not too busy, and we noticed that the two-menu option was also not available. That was fine with us as it gave us the opportunity to focus on fewer wines. Seven wines were available to sample, and of course the white wines were poured first. My own gold star was awarded to the 2007 Viognier with its honeysuckle nose and stone fruit flavors and a nice acidity to boot. Paul tended to favor the 2007 Noblesse Blanc which I thought was a dead-ringer for a Riesling. This blend of Vidal Blanc, Seyval Blanc, Viognier and Chardonnay is packed with fruity aromas and flavors. A versatile pour, the Noblesse Blanc could grace a dinner table that featured veal, pork or fish; however, it would also be a perfect patio or picnic sipper (in warmer weather, of course).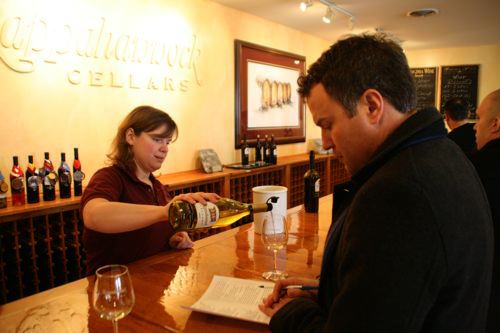 The red wines were next on the menu, and my double gold award of the day was presented to the 2006 Cabernet Franc. Tart raspberry and spicy flavors best describe this medium-bodied wine. A deep garnet color coupled with a seductive berry and herby nose confirmed that the 2006 Cabernet Franc was my winner. It should be noted that the 2006 Cabernet Franc is indeed a blend of Cabernet Franc, Cabernet Sauvignon, and a splash of Petit Verdot. Paul's gold star was placed next to the 2007 Headwaters Norton. Paul noted a jammy nose with hints of toast with a mouthful of black cherry and black berry flavors. He described the color as "inky". Some blending of this Norton with 12.5% Cabernet Sauvignon smooths out the Norton characteristics while adding some complexity.
With our tasting done, we decided to share a glass of the outstanding 2006 Cabernet Franc. We also made note that a Claret will soon be released, and we will certainly return to give it a try. If you get to sample the Claret before we do, let us know about it; be sure to mention to the tasting associate that Virginia Wine Time sent you.