New happenings in a new year at Piedmont Vineyards as owner Gerhard von Finck presents latest releases at Piedmont. However, these wines were produced by Gerhard himself as he has taken the reigns as wine maker. We were curious to sample these new releases and to catch up with owner and now winemaker, Gerhard von Finck.
Piedmont Vineyards is known for its Chardonnay, and it was no surprise that one new release was the Special Reserve Chardonnay made from the 2007 vintage. Aged for nine months in oak, this Chardonnay presented apple and pear characteristics; however, Gerhard advised keeping this one on the rack for a month or two due to its recent bottling. I concurred with this advice, and Paul and I both agreed that it was a drinkable pour made to serve with a favorite poultry dish. My own favorite was the Little River White, a slightly sweet blend of Seyval Blanc and Chardonnay. The Little River White was fermented in stainless steel tanks and exhibited fresh, fruity aromas with a refreshing taste of citrus and melon. My special "MT" designation was placed next to the Little River White as I know that my friend and guest critic, Michael Tyler, will favor this one.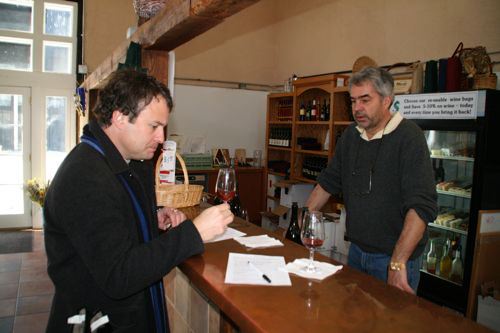 Less recent releases were still available for tasting, and the 2006 Hunt Country Red was Paul's favorite of the day. Paul has been in a Beaujolais mood since November, and it was little wonder that he trended toward this soft, fruity red. Other Piedmont favorite such as the Little River Peach and the dessert wine Felicita were also still available for tasting and purchase. Also on the tasting menu, though, were wines from Del Fosse and Three Fox.
As we swirled and sipped, we did also catch up with Gerhard. The transition to winemaker has been made easier for Gerhard with the help of renowned winemaker, Doug Fabbioli, and Gerhard seemed to relish his new role at Piedmont Vineyards. He plans to bottle new releases of Cabernet Sauvignon and Merlot in March with a Little River Raspberry to follow afterward. Also in the pipeline is a 2008 Cabernet Franc now aging in oak barrels. In fact, Gerhard allowed us a sneak preview of the Cabernet Franc, and the trademark tart raspberry and spicy profile associated with the varietal was on full display. Destined to be popular with Virginia wine drinkers, the 2008 Cabernet Franc will be a limited production wine. (We're keeping our fingers crossed for a Rose to follow the successful Little River Rose, too!)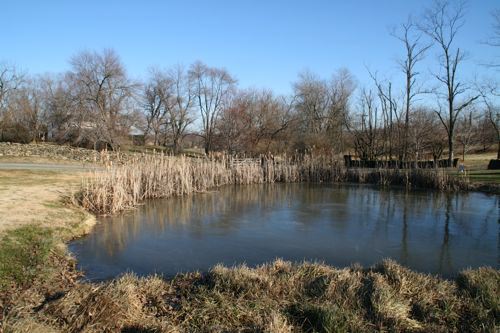 So of course, lunch was in the trunk, and on a cool winter's day we enjoyed breaded chicken filets with an assortment of cheeses. Our pour for the afternoon? The Hunt Country Red! The frozen pond and barren trees made for a romantic winter landscape which, of course, we viewed from the cozy comfort of the tasting room.
Be sure to visit Piedmont Vineyards to sample Gerhard von Finck''s handiwork in the vineyards and in the barrel room. We've already decided to return with Michael Tyler in tow! (Please remember to tell Gerhard that Virginia Wine Time sent you!)