Our friend and guest blogger Michael Tyler was anxious to join us for a wine tasting at Chrysalis Vineyards this past weekend. As readers may know, Michael prefers fruitier and even sweeter wines; therefore, his preferences are different than ours, and that's just fine with us. So on a rainy afternoon, we all paid a visit to Chrysalis Vineyards to sample the latest releases.
Actually, we were due for a tasting at Chrysalis Vineyards as many new releases from the stellar 2007 vintage were on the menu. We armed Michael with his own gold stars, and we set him loose at the tasting bar. Of the white wines, Michael awarded the 2007 Viognier with his gold star award. He noted flowers on the nose and liked the melon fruit in the mouth. This is an outstanding Viognier, and we concurred with Michael's choice. Don't miss out on the 2007 Chardonnay—not many bottles of this one were left, and I made sure to make off with one of them. Done in the California style, this is a full-bodied, well balanced Chardonnay with a nice texture. Vanilla/nut nose with rich pear and apple flavors, it's a must-have Chardonnay for Chardonnay lovers.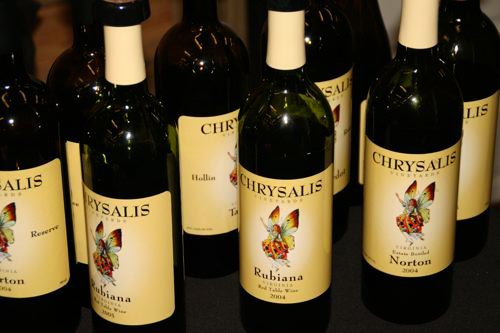 I did make a prediction before our tasting that Michael's ultimate favorite would be the 2007 Sarah's Patio Red, and I was not disappointed. In fact, Michael awarded two stars to the Patio Red. Between sips, Michael observed its bright ruby color and fell in love with its fruity nose. Bright berry flavors with a tart finish made this one an instant hit with Michael. The 2007 release did seem less sweet than in previous years, and the color alone makes it a stand out. I did note tart cranberry in the mouth; serve well-chilled, and this one is the ultimate deck sipper, pizza wine, or summer concert wine. However, for larger holiday gatherings when different palates have different tastes, the 2007 Patio Red might be the red wine of choice for white wine drinkers.
Now Paul was carefully reserving his gold stars for a red wine, and he found it with the 2004 Norton Estate Bottled. After a skillful swirl and sniff of this one, Paul observed notes of leather and tobacco with dry fruit flavors. Michael tended to prefer the jammier 2006 Norton Barrel Select that he likened to a Pinot Noir in character.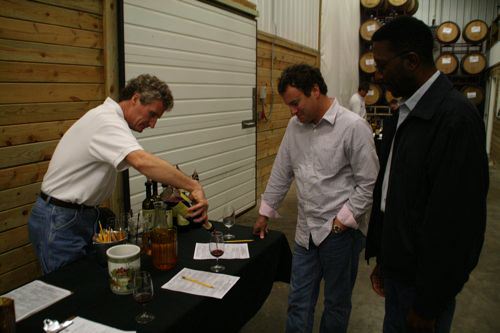 My own favorites? My own gold stars were awarded to the 2004 Petit Verdot and the 2004 Norton Locksley Reserve. The 2004 Petit Verdot possessed a dense cherry nose with extracted fruit flavors and a spicy edge. The 2004 Norton Locksley Reserve follows the heralded 2003 vintage in boldness and complexity. After 16months in oak and three years in the bottle, this one could still sit on the wine rack for a quite a while longer. However, it's hard not to appreciate it now. Concentrated dark fruit flavors dominate but look for a mocha treat as it is released in the mouth.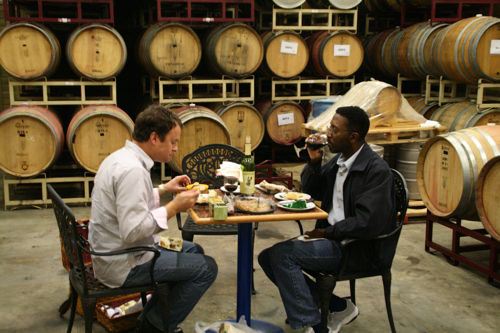 Lunch? Of course! We brought along some spicy sausage, hummus with red peppers, a hard goat's milk cheese, and a baguette. Considering our different palates and the spicy edge of our lunch items, we all agreed on the 2005 Rubiana. A blend of Nebbiolo, Fer Servadou, Graciano, and Tempranillo, the 2005 Rubiana was the perfect fruit-driven red wine to enjoy with lunch. We must add that tasting room manager, Ron Camp, was extremely accommodating and set us up with a table and chairs in the barrel room. It was raining quite heavily by lunch time, and the respite from the downpour was most appreciated. Get out to Chrysalis Vineyards to taste the new releases and tell Ron and the others that Virginia Wine Time sent you!