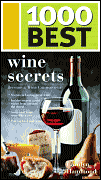 Walking into a wine shop in search of that perfect bottle of wine can be intimidating, and it is certainly easy to think that the most expensive wines must be the best wines. And then there are other misconceptions—only California can produce Chardonnays might be one of them. Serve only white wines with fish might be another. Carolyn Hammond, a wine writer and founder of the Wine Tribune, sets the record straight in her comprehensive yet easy to read wine guide, 1000 Best Wine Secrets. Written for the novice aficianado, even the more experienced connoisseurs can use Ms. Hammond's guide to learn how to buy the right bottle of wine, how to pair food with wine, and to expand knowledge about a broader array of wine varietals. As the title suggests, there are at least 1000 wine tips to learn from this wine guide!
This guide is written in a very accessible manner. Organized into four parts and thirty chapters, topics include selecting the right wines, tasting wines, important wine regions, and trade secrets that debunk myths about wine. Have you wondered when to decant wines? Did you know that Hungary produces world class wines? Heard the word "tannin" but not sure what it means? The answers to these sorts of questions are revealed in this wine guide. Probably the most prevalent myth about wine is that only expensive wines are worth drinking; therefore, building a quality wine collection must be costly. Hammond puts this one to rest as she devotes ten pages to recommend quality wines for under $20! Newbies and pros can certainly take advantage of these valuable recommendations.
Another beneficial feature of this guide is its size. Many wine guides are dense with information and bulky to carry. How many times have you walked into a wine shop armed with the information gleaned from these sources only to realize that you have forgotten what you read? This guide can be easily held in the hand or slipped into the purse while browsing the shelves at the wine store, and since it is organized into bite-sized portions of information, facts can be researched within seconds. Reached the shelf labeled "Portugal" and want to know more? Flip to Chapter 12, and tip #636 explains that the 2001 Altano Reserva Duoro is "an excellent wine from the Douro region." Further details reveal the varietals used and their characteristics. The 1000 Best Wine Secrets can be the next best thing to creating a personal contact at the wine store; in fact, those who already have such a relationship may still want to bring this guide along with them.
Since we devote much time to promoting Virginia wine, I must note that only one very small paragraph is devoted to Virginia wine while a lengthier section is devoted to New York wines. Of course, Virginia is a small producer in the international arena of wine production, but perhaps Ms. Hammond will continue to sample Virginia's award-winning wines and note their progress in her next edition!