We recently paid a visit to Gadino to sample new releases, and we also had a chance to chat with familiar faces, owners Aleta and Bill. The tasting room was abuzz with activity, and we were anxious to join the fray at the tasting bar!
We began with the whites and started with the 2005 Barrel Select Chardonnay. This limited production wine is aged in French oak for nine months, and Warren noted a characteristic buttery feel that lingered. Next up was the medal-winning 2004 Viognier which exhibited bright fruit and mineral qualities. The 2005 Sunset caught our attention; this sipper reminded us that spring is on the way, and summer concerts at Wolftrap are around the corner. Grab a bottle of this one! Perfect with picnic fare on a warm afternoon, the tropical fruit flavors with marry well with a number of dishes that range from light fare to spicier dishes. Not to be outdone in the versatile category is the 2005 Moonrise, a rose style wine that finishes dry.
We moved on to the red, and the 2005 Cabernet Franc was the standout. Bright rapsberry flavors with a bit of spice grabbed our attention. We placed a star on the tasting sheet next to this one, and we moved on to the newest release, the 2005 Cabernet Sauvignon. A bigger-bodied red, this Cabernet Sauvignon exhibited dark fruit flavors with softer tannins.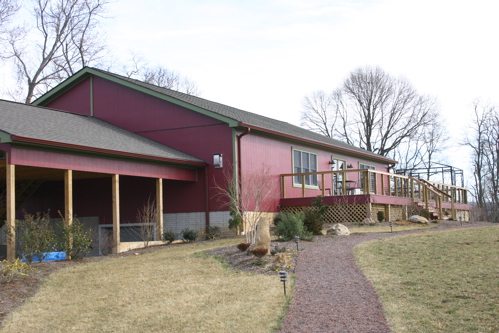 After our wine tasting and some chatting with Aleta, we decided to share a glass of the 2005 Cabernet Franc on the deck. (This is a great place to do some bird watching, too!) As we compared tasting notes, Warren decided that the Sunset needed a place on the wine rack at home; Paul, the Cabernet Franc and the Moonrise. We'll certainly return to Gadino Cellars, and when you visit Gadino, tell Aleta and Bill that Virginia Wine Time sent you!