Labor day weekend traditionally marks the end of the summer, and this past weekend gave us clues that autumn was on the way. After Ernesto's wind and rain, a cool evening breeze suggested fall's inevitable arrival. We wanted to savor summer's last throes, and what better way to cling to summer's warm memories than an outdoor concert with a nice bottle of wine. Tarara Winery hosts its Sounds of Summer concert series, and the series continues into September. On tap for September 2 was the smooth jazz sound of Tyris, a jazz band from Chicago. We arranged to meet friends at the concert including our fellow wine bloggers, Dezel and Niki (from Virginia Vine Spot), and a trip to Whole Foods filled our picnic basket with wine-friendly goodies. We could not think of a better way to say goody-bye to summer!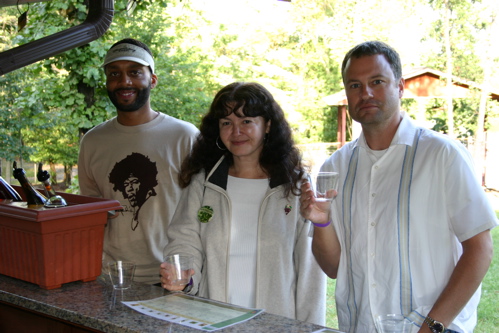 We were all fortunate to meet with
John
, a sales consultant at Tarara, before we began our tasting. John seemed very excited to meet four wine bloggers at one event; of course, we were very excited to sample Tarara's latest releases.
Keri
allowed us to sample all of Tarara's offerings that included their reserve wines. In the meantime, we were joined by two more friends, Michael and David. The six of us compared notes and selected three of our favorite wines to enjoy with dinner and jazz. These included the 2003 Meritage, the 2004 Cabernet Franc, and the 2005 Charval.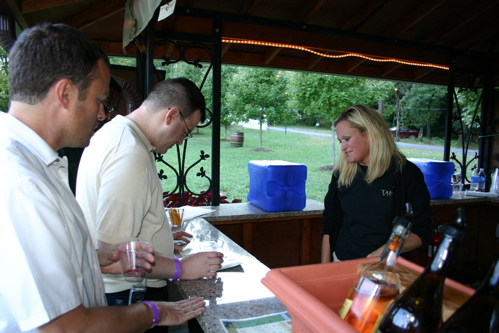 So what foods did we all bring along? Well, lots of food! The Meritage, a blend of Cabernet Sauvignon, Merlot and Cabernet Franc, paired quite well with muffaletta-style sandwiches, cocoa cardona cheese, and blackberries. Barbeque ribs and beans married Cabernet Franc, and we swore it was a match made in heaven. Refreshing Charval seemed more comfortable with spicy grilled chicken and fruit. The time seemed to fly, and before we knew it the stars were out and the crickets began to accompany the easy-listening sounds of Tyris.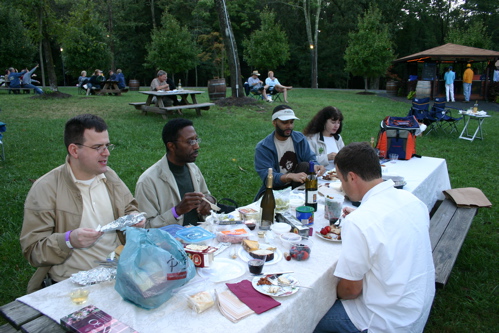 Friends, food, and wine–the best way to say farewell to summer! We had a great time and look forward to returning to Tarara soon.
If you visit Tarara Winery in the future, be sure to tell them you read about them on The Virginia Wine Time Blog.