Washington Post Critic Likes VA Chardonnays!
Yes, it's true! As many readers may know, the Washington Post's Wednesday edition always includes a section for food and wine. Post wine critic, Ben Giliberti, posted an article this past Wednesday that recommended New World wines as Old World counterparts. Virginia Chardonnays appeared on his list of alternatives! Of course, we at Virginia Wine Time already knew this but to have this fact confirmed by a renowned wine critic made our day! We concluded a long time ago that the superior Virginia wineries must at least be able to produce a quality Chardonnay and a quality Cabernet Franc. Our blog entries provide testimony to this fact—most Virginia wineries do indeed produce excellent wines from these varietals. In fact, our recent visit to Piedmont Winery not only proved our point but also supported Giliberti's recommendation. Read on to find out more!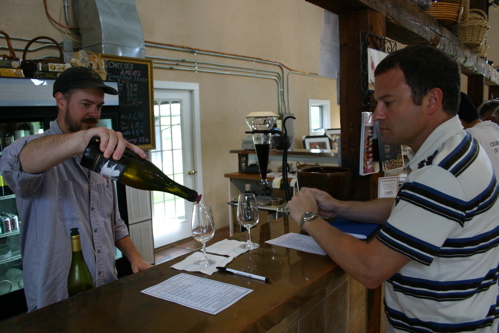 The last time we visited Piedmont, we were told that new releases would be available for tasting in September. We marked our calendars in anticipation, and we returned last weekend for an update. Of course, the Chardonnays shined brightly! Piedmont always produces quality Chardonnays, and the latest releases lived up to that tradition. In particular, we enjoyed the 2005 Native Yeast Chardonnay. Now, we must admit that we enjoyed a bottle of the 2002 Native Yeast Chardonnay the night before with seafood. Did the 2005 Native Yeast live up to its older sibling? Absolutely. In fact, Paul is not a Chardonnay fan, but he fell in love with the 2005 release. John Fitter, winemaker, informed us that the 2005 was fermented in older barrels; the result was a Chardonnay rich with pectin fruit aromas and flavors supplemented by a soothing honey texture. Though oaked, this Chardonnay did not present the vanilla/nutty/woodsy characteristics associated with an oak-aged Chardonnay. We purchased a bottle for lunch. What did we have for lunch? Leftovers from the previous night's seafood feast—baked fish with herbs and roasted almonds, crab cakes, and seasoned rice. The pairing was superb!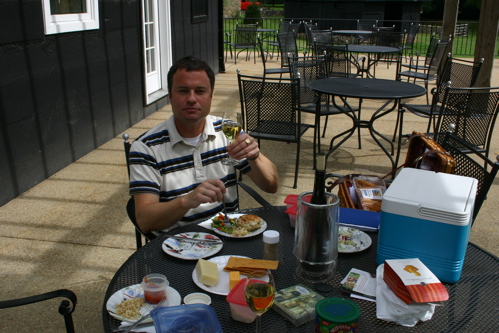 We must note that the red wines also shined at Piedmont. In particular, the Cabernet Franc was truly noteworthy.; John Fitter was quite pleased with this first production of Cabernet Franc at Piedmont, and we understood the reason—lovely raspberry flavors with hints of spice that are characteristic of the Franc varietal dazzled the senses. Wondering what to serve with Thanksgiving turkey? Give this one a try. However, act soon—Piedmont only produced 48 cases of the Cabernet Franc, and we doubt stocks will last long. They hope to release this Cab Franc to the public in the coming weeks. Also try the Cabernet Sauvignon—another nice red from Piedmont that demands a place on the wine rack. Nice dark cherry and plum characteristics describe this 100% Cabernet Sauvignon, and we had a glass of this one with dark chocolates and blue cheese. That steak dinner is just mooing for this Cabernet!
Our trip to Piedmont confirmed what we already knew before we read the Post article. Virginia wineries do indeed make high-quality Chardonnays. Piedmont took a step further—Virginia wineries make high-quality Chardonnays and dynamite Cabs! Taste for you yourselves! If you visit Piedmont, tell them you read about them on the Virginia Wine Time blog.