On Saturday we returned to Ingleside Vineyards on the Northern Neck of Virginia, and Ingleside's winemaker, Bill Swain, was gracious enough to take time from his harvest preparations to speak with us. Bill has wonderful experiences as a winemaker and was more then happy to share some of them with us. Click on the podcast link below to hear our talk with Bill. Sorry for the hum in the background. There was an AC unit cooling the tank room while we recorded our conversation.


Show #004
Show Length: 32:17
File Size: 27.4 MB

Bill Swain, Andrea, and Warren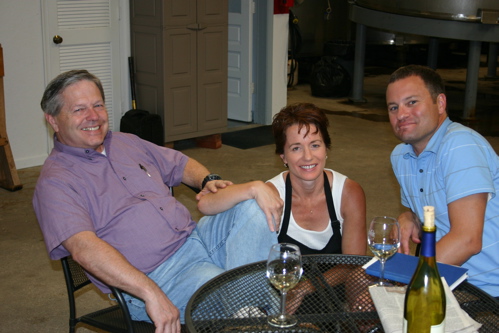 Before speaking with Bill we had time to do a tasting. Jameson and Sarah guided us through the wines at Ingleside. Since our last visit, Ingleside has released a new Pinot Grigio, Chardonnay, and Viognier. The newly-released 2005 Chardonnay exhibited lots of fruit characters and provided a crisp, elegant finish. We enjoyed the Chardonnay very much, and we decided to have a bottle with our lunch. The 2005 Chardonnay proved to be the perfect partner with ham sandwiches, sliced apples, almonds, and brie. During lunch, we were also able to chat with Andrea, Ingleside's tasting associate who arranged for our interview with Bill Swain. (Thanks, Andrea!)

Sarah, Jameson, and Wararen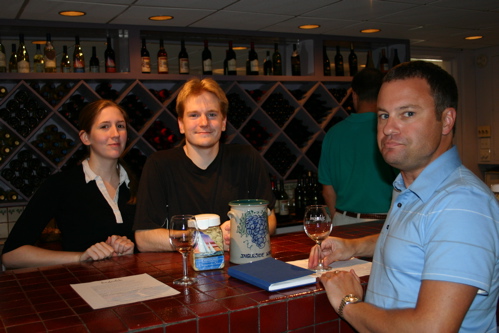 During our visit we found out that Ingleside will be having a barrel tasting in November. We plan to return to the Ingleside for this event, and we are eager to sample their upcoming releases right from the barrel.