While returning home from our trip to Woodland Vineyard we decided to stop at James River Cellars. We visited James River last fall, and we were anxious to check out new releases there.
James River is located in Hanover County just north of Richmond. They have one acre of grapes on the property and another 22 acres planted in Montpelier. James River Cellars hosts several events during the year and can accommodate group events up to 50 people. They have their next wine maker's dinner planned for February 10, 2007.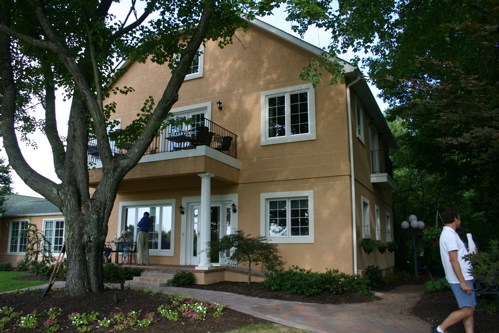 On the day we visited James River, we had the pleasure of meeting the Dastardly Duo, Doug and Dennis. They treated us to many stories and lots of information about James River Cellars as we sampled nine wines. Noteworthy wines included the crisp 2004 Chardonnay, the refreshing 2005 Vidal Blanc, and the 2003 Merlot; all three are medal winners. We also enjoyed the 2005 Divino, a dessert wine made with the Chardonnel grape. Chardonnel is a Chardonnay-Seyval Blanc hybrid, and this ice-style wine earned the coveted Governor's Cup.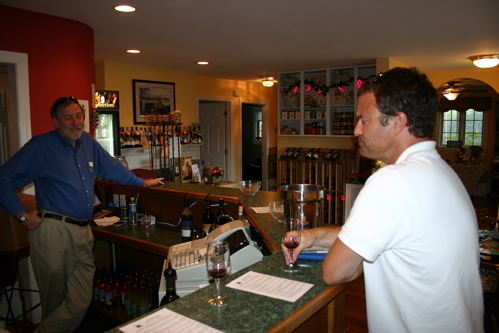 After our humorous tasting with the Dastardly Duo, we decided to enjoy a glass of the 2004 Reserve Chardonnay while enjoying the view on the veranda. This Chardonnay imparts apple aromas and flavors, and a vibrant acidity gives it a nice structure. Warren always has food on the mind, and he thought that the 2004 Reserve Chardonnay would pair nicely with crab cakes; chicken with a light sauce and toasted almonds would be another possibility.
James River is just one of five wineries on the Heart of Virginia Wine Trail. If you find yourself in the Richmond area, take time to visit James River Wine Cellars. You just might get the chance to enjoy a wine tasting with the Dastardly Duo.
And of course if you visit James River, tell the Dastardly Duo that you read about them on The Virginia Wine Time blog.