Those of us who blog about their appreciation of Virginia wine are actually part of a small but growing blogging community. John Witherspoon represents an even smaller community—a wine blogger who also operates a Virginia winery! We recently caught up with John at Woodland Vineyard located in Midlothian, Virginia. Woodland Vineyard is a family operation owned by Melissa Jeltema and Eric Gretenhart; daughter Megan Witherspoon is graphic designer, events planner and marketing assistant. Megan's husband, John, is the financial, business and marketing manager. John also authors Anything Wine, one of the newest wine blogs in the area. Did John share any winemaking secrets? Well, listen to our podcast to find out!
Click on the "Podcast" link below to hear the podcast.
Did we sample Woodland's wine? Absolutely! Current offerings include a dry Vidal Blanc, the 2004 Chardonnay, the 2005 Chardonnay, the 2005 Merlot, and the 2004 Woodland White. We enjoyed all of the wines, and personal favorites included the apple-flavored 2005 Chardonnay with its buttery finish and the velvety 2005 Merlot. Woodland's Merlot delights the mouth with lush cherries and hints of mocha. Looking for a sipping red? This lighter-bodied Merlot fits the bill quite nicely; yet, it would feel right at home on the dinner table. In fact, the 2005 Merlot was our wine of choice for lunch that afternoon. We brought along deli-style sandwiches stuffed with black forest ham, salami, Emmental Swiss cheese, fresh basil and black olive tapenade; other accompaniments included Merlot-friendly Camembert cheese, nuts, and chocolates. John chatted with us as we enjoyed our lunch and wine on the patio nestled beneath shady trees.


John joined us for some wine conversation during our lunch.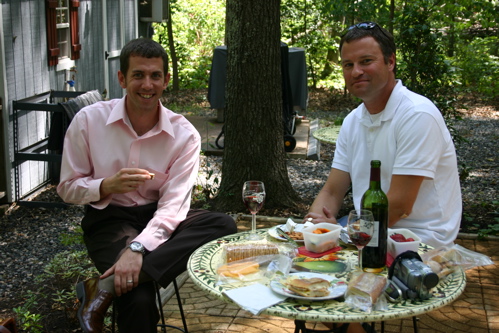 We resolved to meet up with John and his wife again very soon. Before we left, we purchased several bottles of the 2005 Chardonnay and the 2005 Merlot. Warren also purchased a bottle of the Woodland White, a nice appertif or patio quaffer. We also got to chat with Eric Gretenhart in the barrel room, and John and Eric treated us to sneak previews of the gold-medal winning Reserve Chardonnay, an elegant wine that was not yet ready for sale, and the upcoming Cabernet Sauvingnon. The Cabernet was still in the barrel, but John and Eric revealed that this one will be released in October.

John gave us a barrel tasting of the upcoming Cabernet Sauvingnon.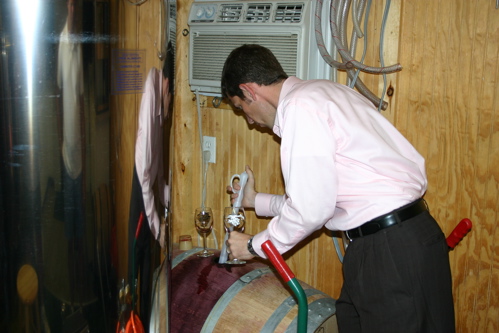 Thanks, John, for taking time out of your day to meet with us! We look forward to more well-crafted wines from Woodland Vineyards.