On our final day of the Monticello Wine Trail we headed north. We were eager to visit Oakencroft Vineyard and Winery, King Family Vineyards, and White Hall Vineyards.
On our first stop, we visited King Family Vineyards. We've commented before on the beautiful mountain scenery that we repeatedly viewed while on the Monticello Wine Trail, and the view offered as King Family was no exception; however, here we also beheld a polo field! On Sundays, King Family Vineyards hosts polo matches that can be viewed from the tasting room and surrounding seating areas. Our tasting associate, Andrew, was very knowledgeable and guided us through our tasting of the King Family wines.


The King Family Tasting Room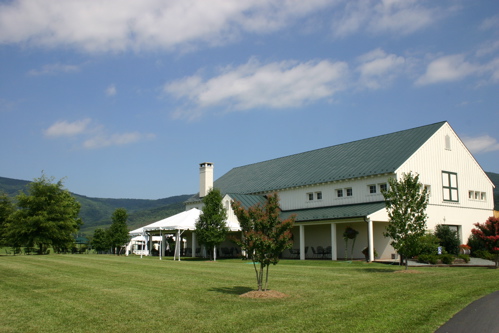 Michael Shaps has been hailed as one of the most gifted winemakers in Virginia, and a sampling of his wines revealed why. The 2005 Chardonnay and 2005 Viognier were both delightful; however, the gold star had to go to the 2005 Cabernet Franc. The King Family Cabernet Franc offered surprising aromas of cherries as opposed to the usual raspberry aromas and flavors. We suspected some blending with small amounts of Merlot, and we were correct! Hints of spice and a smooth, velvety finish were evident, too. In fact, we enjoyed the 2005 Michael Shaps Cabernet Franc so much during our tasting that we decided to purchase a bottle and stay for lunch. This proved to be a nice partner with our smoked gouda and spicy salami served on a baguette with sun-dried tomato tapenade. From the veranda, we enjoyed our lunch and soaked up the breath-taking views. Warren even daydreamed about playing a few chukkers on the polo field with a glass of wine as refreshment. We purchased several bottles of King Family wine before hitting the trail once again; our next stop, White Hall Vineyards.

Warren at the tasting bar.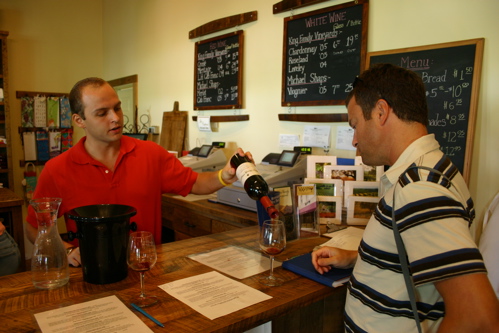 White Hall Vineyards
began with 6 acres of grapes in 1991 and now has 25 acres of planted grapes. Tony and Edith Champ were influenced by California's wine-making success to produce award winning Virginia wines. As with many other wineries in the Charlottesville area, White Hall sits at the foot of the Blue Ridge Mountains. In the tasting room our tasting associate guided us through the ten wines offered to taste. Of particular note was the 2003 Chardonnay Reserve, the 2004 Touriga, and the 2004 Petit Verdot. All three were award-winners, and we decided to enjoy a glass of the '03 Chadonnay Reserve. Apples, pears, and toast were evident on the nose; pineapple and citrus flavors greeted the palate and ended with a lingering vanilla/nut finish. The '03 Chardonnay Reserve would be divine with corn chowder or crab cakes! Warren left with a bottle each of the Touriga and the Petit Verdot. For those who enjoy port-style wines, do try the Edichi; crafted from Petit Verdot and Cabernet Franc, the Edichi would complement a cheese platter served after a meal.

White Hall tasting room.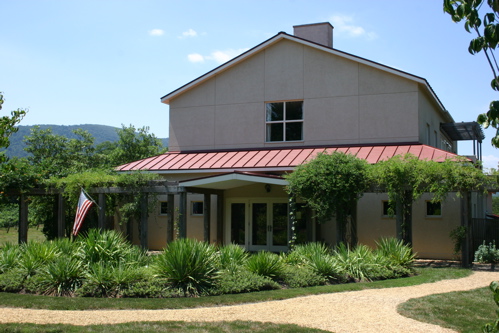 Warren at the tasting bar.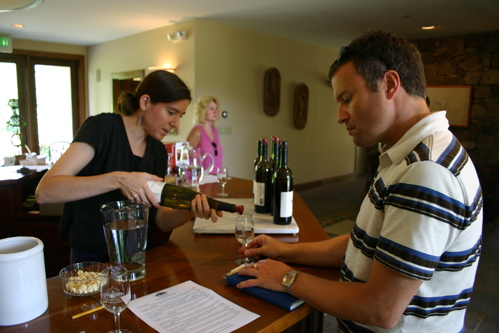 Back on the trail, our final stop was to
Oakencroft Vineyard and Winery
. Oakencroft is one of our personal favorites, and we consider our visits there to be a highlight of any visit to Charlottesville. Oakencroft was founded in 1983 by Felicia Warburg Rogan. She has been praised by former Virginia governors for her strong support of the Virginia wine industry, and Oakencroft wines are consistent medal winners. Located in Albermarle County, Oakencroft also offers views of rolling hills, and wines can be enjoyed with a picnic beside a large pond that attracts ducks and geese. Of course, we wanted to sample wine, and we made our way to the tasting room.

The Oakencroft tasting room.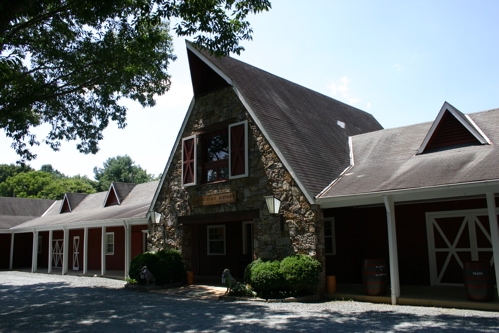 The tasting room was busy, but we received expert attention from the staff. We enjoyed all wines that we tasted; the 2005 Seyval Blanc was described as "vibrant", and it certainly was alive with citrus characters. Think "crisp" as well; this gold medal winner would pair well with seafood. Another noteworthy white was the 2005 Chardonnay which was fermented in stainless steel. Paul favored this crisp, elegant wine. We were both eager to sample the reds; in particular, we wanted to taste the 2003 Petit Verdot. Warren is a big fan of Virginia's Petit Verdot, and Oakencroft produces excellent wines with this varietal. Deep amethyst colors suggest a fuller-bodied wine, and it presents dark fruit flavors and subtle mocha in the mouth. This 2003 Petit Verdot has a long yet smooth finish. What to serve with Petit Verdot? Leg of lamb with roasted vegetables would be a perfect match!

Warren at the tasting bar.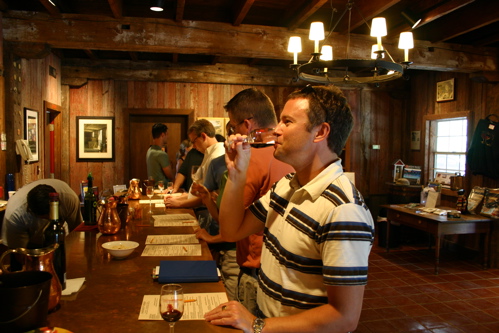 After our tasting we decided to enjoy a glass of Petit Verdot with chocolates. While nibbling and sipping, Felicia Warburg Rogan walked by our table, and we briefly chatted with her. Feleicia said that she recognized us, and Paul refreshed her memory that we were from the Virginia Wine Time blog. At that point she remembered reading our blog since she had bookmarked our site on her computer. We were very pleased to hear this! Before leaving Oakencroft, we purchased a few bottles of wine to bring home including the 2003 Petit Verdot. This ended our wonderful trip on the Monticello Wine Trail.
The Charlottesville area plays host to some of the best wineries in Virginia and the East Coast. If you are a Virginia wine lover, you simply must plan a trip to this historic area of Virginia and enjoy the wines. We cannot wait to return!
If you do visit any of these wineries, please tell them you read about them on the Virginia Wine Time blog.