On the third day of our trek on the Monticello Wine Trail we made it to three wineries in the Trail's western region, and these included Afton Mountain Vineyards, Veritas Winery, and Cardinal Point Vineyard and Winery. This was one of the hottest days of our trip; needless to say, we were hot on the trail in search of well-crafted wines!
Our first stop this day was at Afton Mountain Vineyards. Afton Mountain was established by Shinko and Tom Corpora in 1978 and sits at the edge of the Blue Ridge Mountains. The mountain setting and vineyards views provided a beautiful (and somewhat cooler) setting for wine tasting.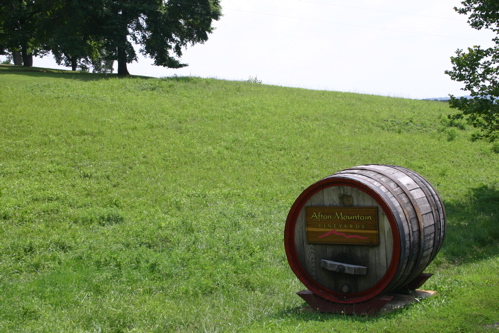 Our tasting room associate, Brian treated us to an introduction to Afton Mountain's wines and provided informative descriptions as the tasting progressed. Notable white wines included the 2005 Gewurztraminer with its unique, aromatic qualities and the 2005 Un wooded Chardonnay, Paul's favorite, provided nice pectin flavors that would refresh any palate on a warm day. The reds were equally enjoyable; try the 2004 Cabernet Sauvignon—dark fruit but medium-bodied makes it accessible and easy to pair with food. However, we decided to linger at Afton Mountain over a glass of the 2005 Virginia Clairet. The Virginia Clairet bears a remarkable resemblance to a Beaujolais; clear ruby in color, strawberry scents and flavors with a slight hint of spice charm the palate. If readers are looking for a light-bodied red that is destined to be a crowd pleaser at Thanksgiving dinner, give this one a try! We enjoyed our time at Afton Mountain, but it was time to move on to the next winery on our agenda—Veritas Vineyards and Winery.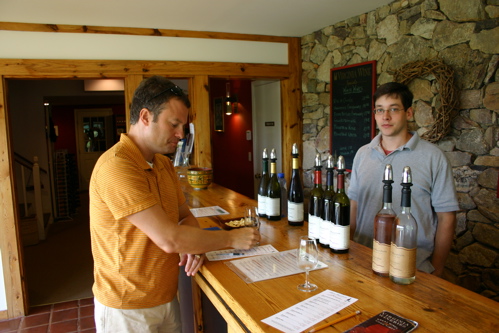 Veritas Vineyards & Winery
is a family-owned business operated by Andrew and Patricia Hodson. The winery opened in 2002 when Andrew began the craft of winemaking with his daughter, Emily. Amazing is the term to describe the elegant facility with its high ceilings and expansive mountain views. Future plans include a restaurant; however, Veritas does currently host and cater events such as weddings.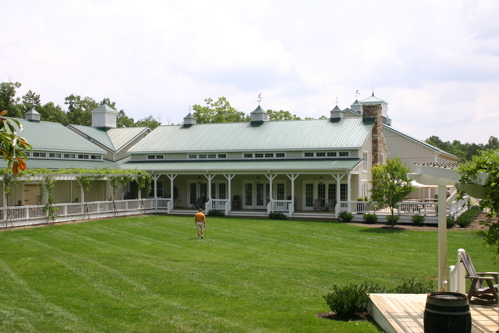 Veritas had ten wines to sample, and by this time we were also hungry; of course, lunch was waiting in the trunk of the car. Naturally, we were in quest of an appropriate pairing for the herb-spiced chicken that we brought along. The winner was the 2005 Viognier with its lush fruit and floral characteristics and subtle honey texture. Of course, we tasted the nine other wines offered on the tasting sheet, and other shining stars included the Chardonnay-Viognier blend known as the 2004 Harlequin, the 2004 Chardonnay, and the 2004 Claret. Give the 2003 Mousseux a try, too! This is a unique champagne-style wine made from Cabernet Franc.
With a bottle of the 2005 Viognier in tow and hunger pangs getting louder by the second, we selected a picnic table that allowed us to dine and enjoy the Mountain views. During our lunch we received a visit from the winery cat and the winery dog. They were both very friendly, but the cat was interested in joining us for lunch! The dog had strict instrucions on his collar: "Do not feed me."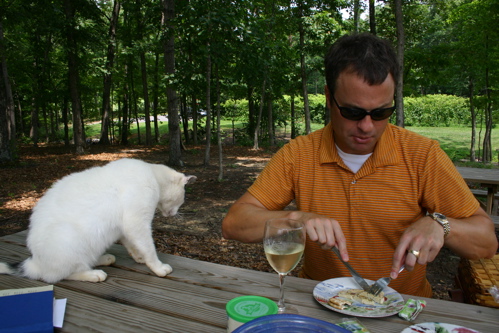 Our appetites satisfied, we made our way to the final stop of the day at
Cardinal Point Vineyard & Winery
. Cardinal Point is another family- run business and each family member contributes to the success of the winery. In fact, when we entered the tasting room, Sarah Gorman instantly recognized us as those guys from VirginiaWineTime! We were so amazed to be recognized from our blog, and we briefly felt like celebrities. However, Sarah made us feel like old friends and chatted with us about the winery, their own micro-climate, and the dreaded distribution laws.
Sarah also led us through tasting the fine wines at Cardinal Point. Standouts included the 2005 A6, a blend of Chardonnay and Viognier, the award-wining 2005 Quattro, and medal-winner 2004 Cabernet Sauvignon. The Quattro was particularly intriguing; the blend of Riesling, Gewurztraminer, Viognier, and Traminette impart lovely apple and pear notes. Looking for an appertif? Sample this one!
After our tasting we decided to enjoy a glass of their 2004 Cabernet Sauvignon. Sarah suggested we sip our Cabernet in the barrel/tank room, which also included a cozy seating area; as we relaxed, we also watched a DVD produced by a local film artist. Featured was the wine making process at Cardinal Point. The video footage was beautiful and captured the process in detail. Of course, enjoying a glass of their Cabernet during the DVD enhanced the show! This complex wine exhibits dark fruit characters that would accompany beef; however, Warren, ever the chocoholic, had visions of dark chocolates!
We are determined to return to Cardinal Point for a future visit, and we thank Sarah for the time that she spent with us. Our trip to Cardinal Point also signaled the end of our travels on the western portion of the Monticello Trail. Curious about the last leg of our trip? Tune in next time, and we'll tell you all about it!
If you visit any of these wineries, please tell them you read about them on the Virginia Wine Time blog!