Day two of our trek on the Monticello Wine Trail brought us to the southern region, and we were able to visit four wineries. These included Jefferson Vineyards, Kluge Estate Winery & Vineyard, First Colony Winery, and DelFosse Vineyards & Winery. We were treated to some wonderful wines; for lunch, we opted to dine at Kluge Estate. The experience there was truly stellar! Though it was a long day, we tasted some great wine—read on to find out more.
Our first stop on the southern trail was Jefferson Vineyards, and it is here at Jefferson Vineyards that Thomas Jefferson's vision of Virginia as a world-class wine producer has been realized. Jefferson Vineyards produces its wines from Thomas Jefferson's original estate vineyards, and since 1981, Jefferson Vineyards has crafted award winning wines just minutes from the historical Monticello.


The tasting room at Jefferson Vineyards.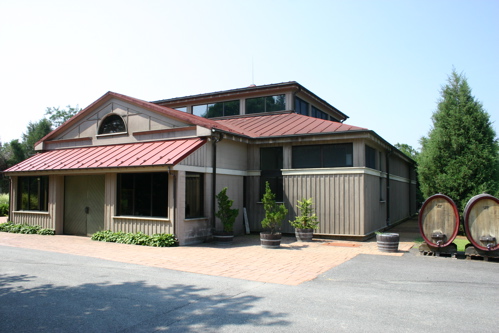 The quaint tasting room is staffed with knowledgeable assistants, and they guided us through the seven wines offered. Two notable white wines were the 2005 Chardonnay Reserve and the 2005 Viognier. The Viognier was a true classic; nice honeysuckle and apricot aromas abounded here. No wonder it took gold at the 2006 Governor's Cup! We moved on to the red wines, and the standout here was yet another gold medal winner—the 2004 Meritage. In fact, we decided to enjoy a glass of the Meritage out on the deck. Deep garnet color then revealed scents of dark cherries, plums, and spice. Flavors suggested Merlot's dominance but Petit Verdot subtly presents itself both to the eyes and in the mouth. Structure would be the word to use with this one. Oh, did we think about food! Filet mignon anyone?

Warren during our tasting at Jefferson Vineyards.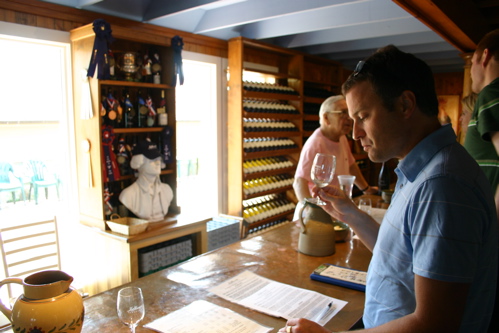 Speaking of food, we had already decided to lunch at Kluge; so, with pangs of hunger in our stomachs, we reluctantly left Jefferson Vineyards and made our way to
Kluge Estate Winery & Vineyard
. Our time at Kluge was the ultimate experience of our day on the trail's southern leg.
Patricia Kluge planted the vineyard in 1991 and aspired to establish Kluge Winery and Vineyard as the premier winery on the East coast. Tastings are conducted in the Kluge Estate Farm Shop which sits next to the vineyards. Visitors can enjoy rustic settings from inside the shop, but chairs and tables outside make it possible to appreciate lovely, rural landscapes. The elegant gourmet shop offers an array of imported cheese, desserts and tasteful gift items; likewise, the lunch menu suggested a marriage of elegance and simplicity. With lunch in mind, we first sampled Kluge's wines and made our way to the tasting room. We were immediately spoiled with the Brut, Paul's personal favorite. Warren was also intrigued with the Albemarle Rose; this Rose is very dry and a blend of classic Bourdeaux varietals that include Cabernet Sauvignon, Cabernet Franc, Petit Verdot, and Merlot. (Think salmon with this one!) However, we both concurred that the 2003 Albemarle Simply Red was one of Virginia's best reds from the tough 2003 vintage year. Medium-bodied and full of blackberry and plum flavors, this Bourdeaux-style red includes notes of spice and leather/tobacco. Velvety tannins give this one a smooth finish. We ended the tasting with a sample of the Kluge Cru, which is aged in Jack Daniel's barrels!
Warren at the tasting bar at Kluge.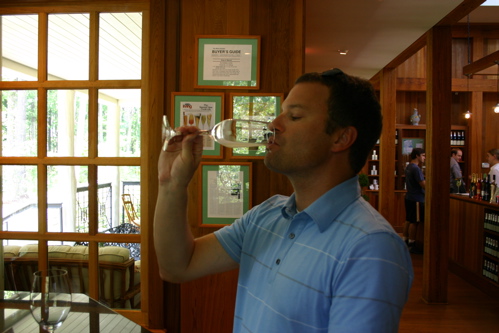 What to have with lunch? Well, we eagerly returned to the gourmet selections, but we both knew that the 2003 Albemarle Simply Red had to join us for lunch. We ordered a charcuterie with baguette and a tomato salad; of course, we also ordered the Simply Red, and a perfect match was made! We had enough of the Simply Red to enjoy with dessert, and we capped off our lunch with a sinful dark chocolate brownie.
Our hungers satisfied, we continued along the southern portion of the Monticello Wine Trail, and our third stop was to First Colony Winery. First Colony was established by Randolph McElroy, Jr. in 2000. We were lucky enough to talk with the assistant manager, Kerry, while tasting the wines. Kerry offered a wealth of information about First Colony Wines and their wine-making process. We were particularly interested in the Rose since the 2004 and 2005 vintages were made available for us to sample. The comparison was amazing; the 2005 Rose was produced with 100% Cabernet Sauvignon; of course, 2005 was an amazing year for the vineyards, and the result was evident here. Very crisp but nice berry and subtle candied apple flavors make this one either an accessible sipper or a lovely complement with food. Other favorites at First Colony included 2002 Chardonnay Reserve and the 2004 Meritage.


The tasting room at First Colony.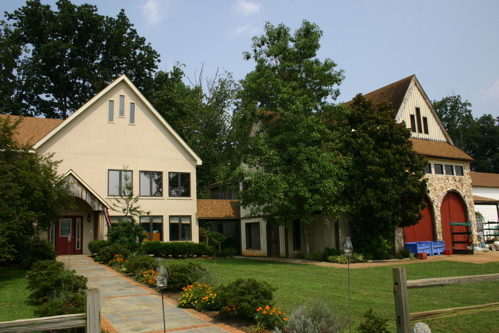 Our final stop on the southern trail was at
DelFosse Vineyards & Winery
. Located between two hills with beautiful views of their vineyards, Delfosse's tasting room is currently under construction; so, the tastings take place on the covered deck. DelFosse had 14 different wines to taste. For those who like softer red wines during the sweltering summer months, the 2005 Dear Rock Farm might offer refreshment. Barbeque would certainly be a nice match up with this one. The 2005 Chardonnay was also interesting; the 5% blend of Viognier takes away the oaky edge of barrel-fermented Chardonnay. Paul shies away from oakier Chardonnays, but he found this one to be just right!
With our day's experiences journaled and wine purchases safely stored in the car, we then ended our long day on the southern neck of the Monticello Wine Trail. More to come as we continued to explore the rest of the Monticello Trail!
If you visit Jefferson, Kluge, First Colony, or DelFosse, please tell them you read about them on the Virginia Wine Time blog!