The Monticello Wine Trail consists of 15 wineries in and around the Charlottesville, Virginia area. These wineries fulfill the vision of Thomas Jefferson who saw Virginia's potential to produce first-class wines. We spent five days in this area and visited as many of the Monticello Wine Trail wineries as possible. In the end, we were able to visit 14 wineries and thus secured many more stickers for our Passport.
The Monticello Wine Trail is divided into regions, and they include North, South, East, and West. We focused on a different region each day and chronicled our experiences. Needless to say, we had a great time tasting new wines at great wineries!
We first tackled the eastern trail, and our first stop was Horton Cellars Winery. Horton produces some 40 wines and always has something new to taste. We usually taste everything on the tasting sheet, but this time we were more selective and sampled fewer of their wines. Of note since our last visit to Horton was the 2005 Viognier, in fact, we opted to share a glass after our tasting. Lovely honeysuckle and fruit aromas hinted at a crisp wine with peachy fruit flavors. We advise readers to also sample the 2004 Viognier as a comparison. The 2005 seemed more crisp, and the fruit characters provide a coolness that would complement any spicy cuisine. Other standouts included the Sparkling Viognier and the Tannat; the latter won gold at the Virginia Governor's Cup. Another note of interest—in preparation for Virginia's 400th anniversary, Horton offers three commemorative wines called Spirit, Voyage, and Courage.

Horton Cellars Winery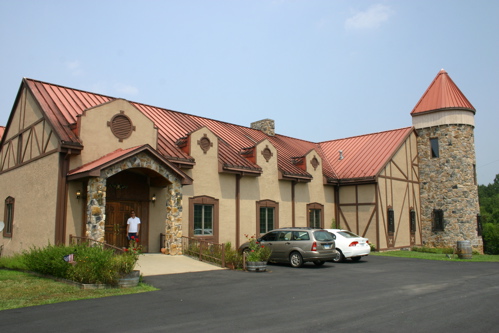 Warren at the tasting bar.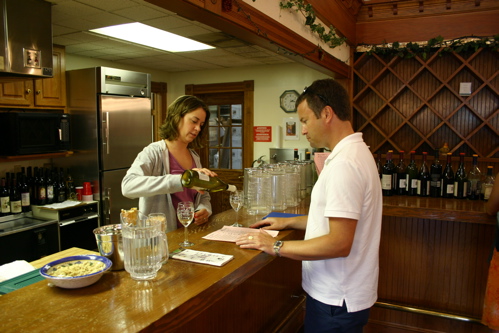 Our second on the eastern trail was
Barboursville Vineyards
. Barboursville, one of our favorite wineries, produces many award winning wines; our readers may concur that after a complete tasting of Barboursville wines, this winery only produces well-crafted, excellent wines. The newest offering was the 2005 Rose, and this blend of Nebbiolo, Sangiovese, and Cabernet Franc provided summer fruit flavors with a nice, dry finish. It was quite nice! Warren's personal favorite was the 2004 Barbera reserve, a Chianti-style wine that begs to be paired with Italian food and roasted vegetables. We finished our visit at Barboursville with a bottle of their Chardonnay Rerserve. Pectin flavors abound here with a nice vanilla that lingers for quite a while. We enjoyed this one on the picnic grounds with lunch that included apples, berries, and almonds. We returned to Barboursville on Friday night to enjoy dinner at the renowned Palladio restaurant. The four-course meal with wine pairings featured Barbourville's Brut, 2005 Rose, 2004 Chardonnay Reserve, and 2004 Barbera Reserve. As we left Barboursville, we decided to return sooner rather than later as our visits there are always delightful!

Barboursville Vineyards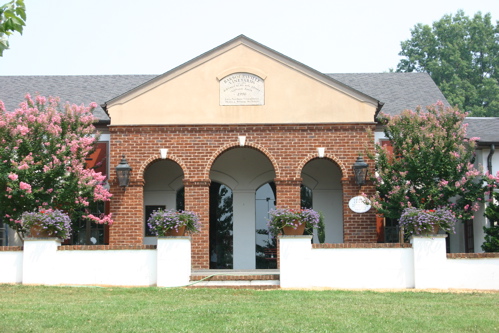 Warren at the tasting bar.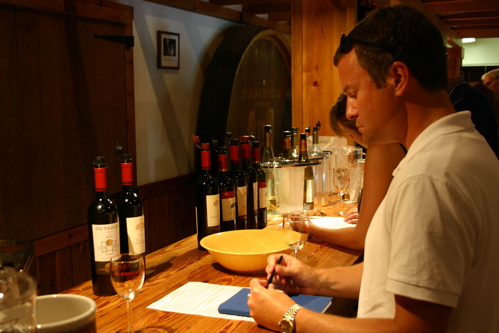 Our final stop on the eastern trail was to
Keswick Vineyards
, and this was on a Sunday afternoon. Keswick Vineyards currently offers tasting of their wines at Keswick Hall, an upscale setting that resembles an exclusive club. They have future plans to build a separate tasting room at the winery. However, be certain to visit at the appropriate time. We arrived before noon, and Keswick does not begin tasting until after noon. The gracious manager invited us to return at a later hour, but given our time constraints we were not able to do so. This gives us another reason to return to the eastern Monticello Trail; in particular, we would like to sample the award winning Trevellian.
We enjoyed our visit to the eastern portion of the Monticello Trail. How did the rest of the trail go? Tune in later this week, and we'll tell you about the northern region of the Monticello Wine Trail. Until then—Cheers!
And if you visit Horton, Barboursville, or Keswick, tell them you read about them on the Virginia Wine Time blog!