The Northern Neck of Virginia constitutes one of the state's five wine growing regions, and last weekend, we decided to revisit the wineries of the Northern Neck. Our trek included visits to Belle Mount, Athena, and Ingleside. Of these three wineries, Athena is the newest; Ingleside, the oldest and most established. Of course, we brought along our Virginia Passports and garnered three more stickers, and in the process we sampled great wines and met wonderful people who all have a passion for wine.
We first stopped at Belle Mount. Belle Mount now enjoys its second year of business, and an interesting note is its location at a recreation facility called Heritage Park Resort. For those interested in a weekend getaway, the Resort rents cottages, and the setting is woodsy and scenic. Guests can go fishing, hiking, and swimming; they can also accompany the day's catch with a bottle of Belle Mount's wine. We visited the tasting room located in the lower level of their Great Hall and sampled Belle Mount's Chardonnay, Cabernet Franc, Merlot, and a sweeter red selection, Workboat Red. As always, we brought lunch along with us, and we concluded that the Merlot was the best choice to accompany our deli sandwiches, olive salad and hard cheeses. We settled on a picnic table beneath one of Belle Mount's large trees and enjoyed our lunch and Merlot. Before we left, we chatted with Ray and Catherine Petrie, Belle Mount's owners and winemakers. They were very excited about consumer response to their wines, but they did express concern about the distribution law that will take effect on July 1. Belle Mount produces 1000 cases of wine; thus, they would be considered a very small winery. We encourage consumers to visit Belle Mount and support the efforts made by the smaller wineries as they face this difficult transition.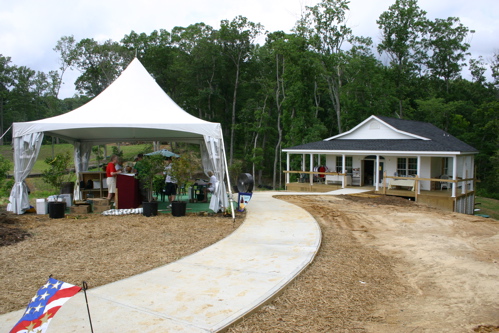 Our second stop on the Northern Neck Trail was the new Athena Winery. Athena opened on Memorial Day weekend, and their tasting room was two week away from completion on the day that we visited for a tasting. Carol and Ruth, two of Athena's three owners, shared with us their unique story. They and a third friend decided to own a winery; all three are involved in the health industry and were inspired by health industry reports that moderate wine consumption can offer health benefits. The three friends purchased 53 acres of land in the Northern Neck with the intent of planting vines and fourteen acres are now planted. Ruth and Carol cleared land and planted vines themselves; a visit from Hurricane Isabel presented early challenges that they overcame with patience and determination. We can testify that the hard work paid off and was evident in the quality of their wines. Beneath the tent that was Athena's makeshift tasting room, we sampled their Chardonnay, a Seyval and Vidal Blanc blend known as Athena White, Cabernet Franc, Cabnernet Sauvignon, the rose-styled Nightengale, and the dessert wine, Athena Sweet. Paul decided to enjoy a glass of the Athena White; Warren settled on the Cabernet Franc, and we sat under an umbrella to appreciate these lovely wines. The Athena White can be described as lush with generous citrus and pear aromas and flavors. Refreshing was the word that came to mind. The Cabernet Franc was equally enjoyable, and it exhibited nice raspberry flavors with hints of herb/mint that are trademarks of the Cabernet Franc. Warren purchased a bottle of the Athena White and thought the Nightengale would be perfect for an upcoming Wolftrap outing; a bottle of Nightengale was thus added to his wine rack! Carol and Ruth shared with us that they selected "Athena" because it evoked the image of a strong female; we can attest to the strength of the three females who founded Athena. We know that we will be writing about the medals bestowed upon Athena's quality wines, and we look forward to a return visit very soon!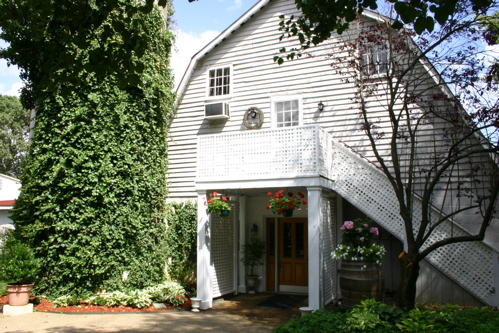 Later that day, we paid a visit to Ingleside, and our visit coincided with a jazz and wine event held at the winery. Ingleside can be considered a pioneer in the Virginia wine industry, and it now celebrates its 26th year! On this particular evening, we were able to sample Ingleside's White label wines as well as the Chesapeake label wines. Our tasting associate was Andrea, and she skillfully guided us through the tasting. Warren's favorites were the Pinot Grigio and the Chardonnay; Paul favored the Chesapeake Chardonnay, and we both concurred that the Cabernet Sauvignon was the shining star of the white-labeled reds. Andrea offered to take us through a tasting of the Black Label wines, and we eagerly took her up on the offer. We were glad that we did! The black-labeled reds were simply outstanding, and it was here that we tasted the 2002 Cabernet Franc, a white labeled wine produced in limited quantities. Red berries, herbs, and velvety tannins earned this one high marks; in fact, Andrea informed us that the 2002 Cabernet Franc garnered a silver medal in a California competition. However, other standouts awaited out taste buds. The Syrah displayed all of the deep cherry and peppery flavors of the famed Rhone varietal; this one will pair with lamb or a mixed grill of meats. The Petit Verdot also earned our praises. We've previously written about Petit Verdot's potential for the Virginia wine industry, and Ingleside provided an example of this varietal's potential. Earthy and spicy, the Petit Verdot provides complexity to Bourdeaux blends; however, on its own, Petit Verdot offers its own intensity. Venison, wild boar, and duck would partner nicely, and Warren decided that a bottle of Ingleside's Petit Verdot needed a new home!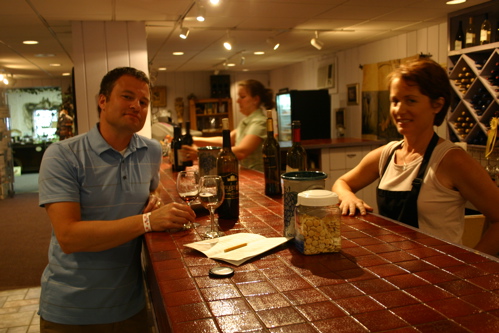 With Andrea's help, we decided that the Syrah would join us for BBQ and jazz. During our tasting, we chatted with other Ingleside staff members including Linda who shared her interest in European History; she and Warren, also a history buff, enjoyed conversation about the topic. In the process, Andrea invited us to a component tasting to be held at Ingleside the next afternoon with an opportunity to meet the current winemaker, Bill Swain. Andrea confided that she, too, would be at the tasting, and we immediately decided to attend the component tasting. To say that the component tasting was a phenomenal experience would be an understatement; in fact, we've decided to create a separate blog article about this experience. Stay tuned!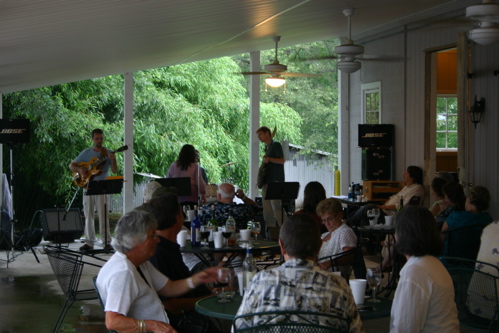 Our outings at Ingleside concluded our tour of Northern Neck wineries. We were not able to visit Oak Crest, and Hummel is currently not open. However, we do know that three more wineries will open in this region, and they are White Fences Vineyards and Winery, Buena Vista Farm, and Vault Field Vineyards. Our weekend visit to the Northern Neck region affirmed that Virginia's wine regions produce quality, award- winning wines, and we eagerly anticipate our return to this prolific wine-producing region.