It is our goal to visit as many Virginia wineries as is possible in 2006. We continued working on this goal on Saturday by visiting three more wineries. We decided on three that were close to each other and would provide us stickers for our Loudoun Wine Trail book as well as our Passport To Virginia Wineries 2006 book.
Our first stop was Lost Creek Winery in Loudoun County. We visited Lost Creek last summer and since that visit we noticed a few changes. They have been working on the exterior areas of the winery. Landscaping was taking place and they have installed a trellis around the patio area at the entrance of the building.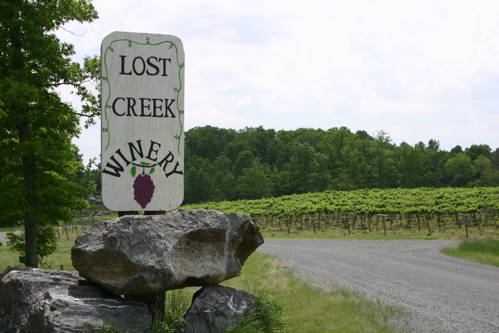 Once inside we were greeted with a friendly hello. The pouring associate remembered us from last summer! She informed us that they had sold out of most of their wines and were only tasting 4 wines. We tasted their Vidal Blanc, Chardonnay, a Chambourcin- blended dessert wine called Courtney's Christmas, and their Cabernet Sauvignon. Paul was disappointed because he was looking forward to tasting the Merlot. The pouring associate informed us they planned to be stocked up with all their wines by the end of June. After our tasting we decided to enjoy a glass of their Vidal Blanc as we sat under their pavilion. This Vidal had a nice golden color with pear and even some tropical fruit on the nose. It had fruit flavors that included pear with suggestions of mango and melon. Warren noticed a unctuous, honey mouth feel with a shorter finish. All in all, a nice patio sipper.
As it turned out,
Hidden Brook Winery
was right next door to Lost Creek. It was an easy stop on our quest for the stickers. We also visited Hidden Brook last summer on the same day we visited Lost Creek. Luckily, Hidden Brook had eight wines to taste. While we were tasting the wines the tasting room began to fill up. Just as we were leaving an limousine of 15 people showed up. Our tasting room associate had her hands full after we left.
Our final stop of the day was at Tarara Vineyard and Winery. We have visited Tarara before and have been to some of their events. Since our last visit some changes have taken place. They have expanded their tasting room into the conference area. They now have a tasting bar that goes around the room. You buy your ticket at the counter as you enter the winery and then move on to the tasting room for the tasting. The first thing we noticed was the extensive tasting sheet provided to us at the beginning of the tasting. It includes all the information you might want to know about their wines. The featured tasting included 9 of their wines. You could also elect to do the winemaker's select tasting for an additional fee. We decided to begin with the featured tasting and then after lunch we would try the winemaker's select tasting.
The featured selection tasting consisted of three white wines and six reds. The whites we tasted were the Pinot Gris, the Viognier, and the Charval. Of the whites, we both found the Pinot Gris to be most enjoyable. The reds includedf their Pinot Noir, Cabernet Franc, Merlot, Cabernet Sauvignon, their Cameo (a blend), and their Wild River Red (also a blend). All of the reds in the featured selection tasting were very nice and exhibited qualities expected from each red.
It was at this point we decided to have lunch and enjoy a bottle of their Chardonnay. We sat out on their deck and enjoyed cheeses, crackers, sandwiches, and apples while enjoying the view and the friendly visits from Shadow, the winery's dog. The weather was perfect for enjoying the Chardonnay on the deck.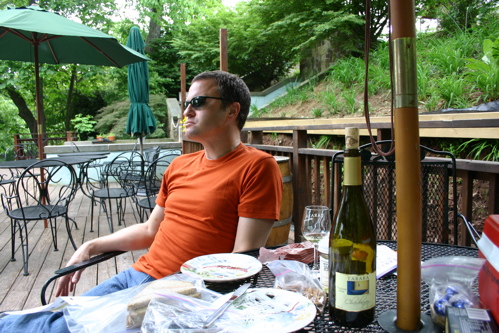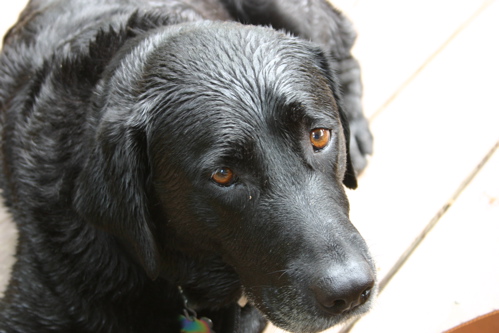 After our lunch we opted for the Winemaker's Select tasting. With this tasting you are able to taste one white, the 2004 Chardonnay, and four reds, as well as one port style wine. The reds included the Reserve Cabernet Franc, Reserve Merlot, Reserve Cabernet Sauvignon, and their Meritage. The final wine, Whitie's D9 is a port style wine. It's 100% Merlot. Of the reds, the 2003 Reserve Cabernet Sauvignon stood out. It is a full bodied cabernet with lots of cherry, plum, and some spice on the nose. This one would certainly go well with chocolates. As a matter of fact, after the tasting we decided to have a glass of this with the chocolates we brought. We left Tarara with a few bottles of wine. We plan to visit Tarara again to attend one of their music events in the summer.
At the end of the day we had secured three more stickers for our Loudoun County Wine Trail book and three more stickers for our 2006 Passport to Virginia Wineries. We now have five more wineries to visit in Loudoun County and more then we can count in Virginia. The summer will be here soon and we'll have plenty of time to complete the quest.