The last time we visited Breaux Vineyards we heard about their Nebbiolo Vertical Tasting taking place this weekend. Being interested in Nebbiolo and not having much experience with it, we decided to sign up for the tasting.
The vertical tasting took place on Saturday. Breaux was a very popular place on Saturday. The tasting room was populated with patrons waiting to taste. Breaux had so many visitors they had to set up a tent outside for more tasting space. There were also lots of people having picnics on the grounds.
Breaux had set up long tables in their tank room for the Nebbiolo vertical tasting. It looked as though they could seat 30 to 40 people for each tasting. After being seated, David Collins, the winemaker, told us about the history of Nebbiolo at Breaux. Then the tasting began.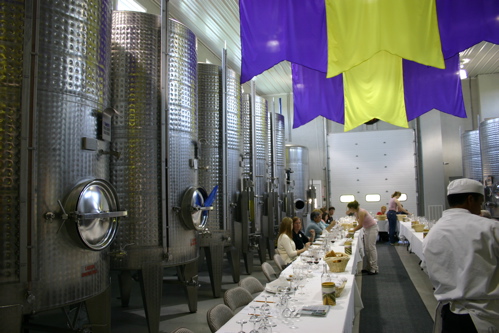 We began with the 2004 and 2003 Breaux Nebbiolos out of the barrel. Both will be spending a year or two more in the barrels before bottling. The 2004 was very earthy, and rustic, with a red brick color and hints of raisin flavors. The 2003 had the same color but was smoother with dark berry flavors.
Next up were the 2002 Breaux Nebbiolo and the 2001 Veraldo Barbaresco. The 2002 Nebbiolo was from the bottle. It was fruitier with pepper, spicy flavors. It was slightly lighter in color but not in body. The 2001 Veraldo Barbaresco was a deeper red with a long finish and gave the sensation of sweetness without the sweet taste. The sensation of sweet was noted by some and questioned by others. Everyone's palate is different.
Finally we had the 2001 Breaux Nebbiolo (current release) and the 2000 Allesandra Montigliero (Barolo). These were very similar. Both had dark brick red colors, smooth on the tongue, with some cherry/dark berry flavors.
Of course the foods prepared by Grandale Farm were perfectly paired with the wines. We had braised duck confit, caponata with prosciutto, Maryland crab mousse, sauteed grandale mizuno and chicory, aged Italian asiago, and nut toffee with vanilla wafer crust. Outstanding tastes to compliment the wines.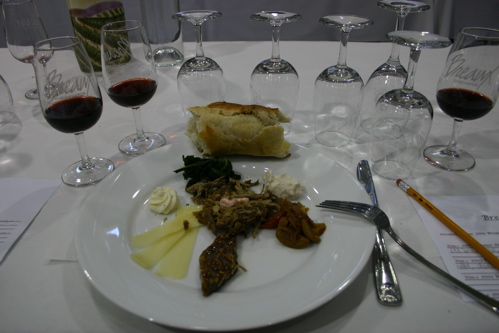 After the nebbiolos, we were treated to a taste of the syrah in the barrel room. They provided some chocolates to go with the syrah. While the syrah was very nice (especially with the chocolates), Paul really enjoyed the merlot they poured before the Nebbiolo tasting began. But then again, he's partial to merlots. From the Nebbiolo tasting, Warren found the 2001 Breaux Nebbiolo to be most interesting. Not being all that familiar with Nebbiolo, we enjoyed the opportunity to taste so many and compare the different vintages. It certainly was an interesting wine afternoon.