This weekend we visited three wineries and one vineyard in the beginning stages of becoming a winery. We are currently collecting stickers for both the Passport to Virginia Wineries 2006 and The Loudoun Wine Trail. The more wineries we visit, the more stickers we collect. Last year we visited 42 wineries in the state.
On Saturday we had the privilege of meeting and talking to Stephen and Shannon Mackey of Notaviva Vineyards. Notaviva is a brand new winery in western Loudoun County. They have big plans for the future and are passionate about making it happen. They hope to break ground on their tasting room in April and possibly open to the public sometime in 2007. They have a few acres of Viognier and Cabernet Franc planted and hope to plant some Petit Verdot soon. Stephen and Shannon are committed to producing quality wines and feel very strongly about the Virginia wine industry. We will be following their progress as their winery takes shape. We will also be writing more about them in the future on the Daily News Record Wine Blog.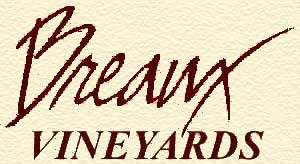 After visiting Notaviva, we stopped by Breaux Vineyards for a tasting. Our tasting experience was so enjoyable we decided to sit down and enjoy a glass of their 2002 Jolie Blond and their 2001 Merlot. Look for a review of these wines on the Daily News Record Wine Blog in the weeks to come. We learned a new term while visiting Breaux. In our talks with our wine pourer we found out that the person who pours the tasting wine at Breaux is called a Wine Tasting Associate. We've wondered what you call the person who is pouring the wine at the tasting.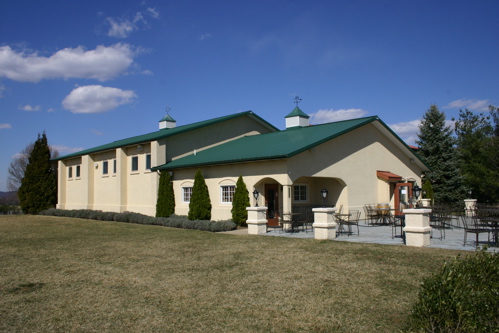 Here's a photo of the Breaux Vineyards tasting room.

Following our stop at Breaux, we headed over to Hillsborough Vineyards for a tasting and to have lunch. We decided on the 2004 Garnet to go with our lunch. In January we wrote about the Garnet as well as posted a video about Hillsborough. Click here to go to that posting.
On the drive home from Hillsborough we decided to stop off at Village Winery for a tasting and to collect our stickers. Village is a relatively new winery. It opened to the public in 2005. Kent Marrs is the owner and winemaker and on this day he was our wine pourer. We have been to Village Winery before and have enjoyed talking with Kent. He is very informative and enjoys discussing his wine and winemaking. You simply must taste his elderberry wine and have him tell you all about it. We plan to return to Village Winery in the future.
As you can see it was a very busy Saturday. We enjoyed all the wineries and all the wines we tasted.